Do you often send pictures as an email attachment?
Do you wish to present your photos on the Internet?
When creating a photo album in a text editor, do you find it too slow?
If so, then this program is the right thing for you!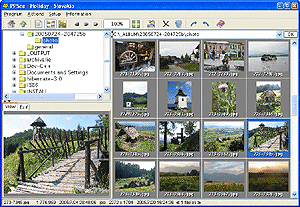 PPSee
PPSee is the template-based image Internet gallery maker and the image viewer. Instead of photos attached to e-mails, you'd better send a link to your own web pages!
The Best Features:
Image Viewer:
logical image rotation (initialized from EXIF)
series renaming
slide show
image descriptions are stored in a plain text file
histogram of image
HTML page catalog (a template based creating main menu)
file removing to multilevel Trash Bin
quick file copy
there is a 'read only' option
association with an external bitmap editor
supported image formats: JPG, GIF, PNG, a BMP
independence on a operating system
no time restriction for commercial use
program does not contain any form of malware, including: spyware, trojans and backdoors
Gallery creator features:
template-based image gallery maker
prepared templates are XHTML ready
slide show with image transitions
EXIF support
navigation hot keys
batch mode from command line (registered version only)
detail documentation
Sample Galleries:
There are disposed sample picture galleries from
PPSee
program:
User Templates:
The program PPSee enables to change the photo album by the help of a number of parameters, however a certain style of the photo album always remains preserved. If you have your own conceptions of the look of the photo album, lay-out of the pictures, navigational buttons, picture description and so on, you can create a template. The template of the program PPSee is a model, based on which the program creates the real photo album. It is useful to know that templates - or more exactly their program accessories - enable to respect the parameters set in the user graphic environment of the program PPSee. To communicate with the program, templates use the program interface API.
Templates can be saved - together with other parameters - for later use; users can share the saved templates with no limits, however only registered vesion allow to save user parameters. Detailed information makes part of the program documentation.
License:
| | |
| --- | --- |
| | The PPSee prgramm is licensed as Freeware - you can use the program for private and commercial purpose without time restriction. It is forbidden to decompile the application or anywise to modify it. You can redistribute the program without fee. Purchase the license, please, if you can to save parameters or if you can have got any more advantages. |
History of Changes:
Version
Date
Description
1.29
February, 2008

A Java version 6.0 is supported now, but an old Java 1.4 supoort is terminated
A choice "Hight Quality Resampling" invokes 8 times speed algorithm before with a previous version.
New skins are avaliable
Small documentation and software bug fixing are done.

1.28
August, 2007

an album background image list is extended, thanks to Mrs. Kamila
a vertical aligning of a template called "Big detail image" is done.
small bugs are fixed
see a tutorial flash prezentation, duration is 3 minutes.
fixing of template "Described thubnails".

1.27
May, 2007

You can launch the PPSee by Java Web Start now.
There is possible to modify a code page of album pages.
EXIF is made better
A template "Described Thumnbails" was fixed.
There is a hot key [Alt-D] for a quick description of files in a "Verified form".
A documentation is supplemented
A print of PPSee documentation is possible

1.26
November 2006

New gallery template for large displaing image in a detail.
HTML page catalog (a template based creating main menu).
Text editor supports finding (include regular expression).
New sknins are available.
Program enable to insert a user wattermark into a detail image (registered version).
A few improvements of HTML code is done, some API in template is modified.

1.251
May 2006

This version fixes a critical bug for some JPG pictures modified by editor Photoshop version 8.0.1 .
A Slide show improvements is done.
Exposition information sorting was improved (shutter speed, aperture, ISO).
An exception logging was improved.
A fotoalbum generator is fixed (bug: java.lang.NoClassDefFoundError: bsh/EvalError).

1.241
March, 2006

Bug fixing of version 1.24: a text property dialog can't be opened under image which have no EXIF.
Accelerated thumbnail loading.
File copy function is available.
Exposition attributes are displayable in file table (shutter speed, aperture, ISO).
Slovak localization is done.
Text editor supports undo / redo.
You can break a long HTML line by ending " _" characters in a template.
A few improvements of HTML code is done.
A maximal memory is increased to 180MB (it is necessary for large images).

1.23
September, 2005

A file group renaming (EXIF is supported).
A histogram of the image.
Images are rotated automatically by EXIF (a default option).
Many, many small improvements and bug fixing are done.

1.22
July, 2005

Program supports a Slide show.
You can move a big detail image horizontally, if you have pressed

Ctrl

key during a mouse wheel spinning.
Little improvements are down and some bugs are fixed.

1.21
May, 2005

Photo album is created by a standard XHTML 1.0 Strict.
You can rotate images without any modification of the original file.
Bug fixing

1.20
April, 2005

There are available new templates with scrolling thumbnails.
There are available new templates with a table layout.
A template management is finished.
Files (images) can be removed and restored by PPSee.
A lot of improvements are done and a small bugs are fixed.

1.11
March, 2005

There is supported a batch mode in a command line.
Program spends a half time to create image thumbnails.
Album creating process bug is fixed.

1.10
February 2005

Image gallery template support.
The program API is created.
Support BMP images using Java version 1.5+.
Image galleries are valid by the specification HTML 4.01 Strict.
A slide show in the image gallery is rewrited.
A documentation is done
Many improvements are done and many bugs are fixed.

1.00
April 2004

Image Gallery support
Accelerated image reading
Java 1.4 and newer is required.

0.50
April 2003

A directory tree on main panel is created
Exif support
Multi Language support
Image magnify is implemented
An internal large image buffer is implemented

0.44
January 2003

The first public version of the image viewer
There are supported next graphical formats: JPG, PNG GIF (no animation)
Single language GUI
Purchasing:
The purchased license allows to you:
to save or restore all parameters
to insert your own watermark to a detail picture in the album
to call the program in a batch mode from a command line
technical support
you have the license for newer versions of the program for the period of three years gratis
and some more advantages.
Buy now from Kagi
. Kagi, our reseller, accepts American Express, Cart Blanche, Diner's Club, Discover, EuroCard, JCB, Optima, Nova, MasterCard and Visa credit and debit cards.
The
price
of the license is
$12 USD
only.
Thank you for purchasing
PPSee
license from Kagi.
By buying the license you will support further development of this program!

Technical Support:
If you have a problem you can send a question to technical support by e-mail

. In the case - write a keyword
SUPPORT
in a Subject of the message, please. Unregistered users have no guaranteed support.
Thank you for any bug notification related to program
PPSee
or HTML image gallery. In case you have found a bug, send me an e-mail to

with a subject
BUG
and concise bug description include a step performance.
Recommended Java programs:
There are some interesting links to Java programs - from different authors: